Stage 3 - 84,1 km | 2600 hm
La Roche - Houffalize - Berismenil
Description
Today's ride takes the riders to that other mountain bike town in the Ardennes, Houffalize and is only a few kilometers shorter than yesterday, but contains the same amount of altimeters.
The first ten kilometers, away from La Roche, are mainly uphill as always. After crossing the Samree-Bérismenil road, the track becomes much easier to drive and it goes fairly quickly to the first supply in the shadow of the Achouffe brewery.
From now on the terrain gets rougher and more technical, culminating in the passage over the famous World Cup course of Houffalize. On the well-known website Trailforks.com, this passage has been given a black diamond rating. But before starting this technical feat, there is first the second supply. After the World Cup course, it goes back to Achouffe, where the followers have been able to enjoy the local beer in the meantime. After all, the third supply is in the same place as the first and is therefore ideal for the followers to linger.
From Achouffe it goes fairly quickly again towards Nadrin, where a number of technical descents follow towards Ourthe. The famous Ourthe crossing then takes the riders to Hubermont and Maboge. The 4th supply is already waiting at the foot of the downhill slope. The end is in sight, but there is still one long climb towards Bérismenil.
Time to enjoy a glass of Chouffe on the terrace!
Google Maps
Download gpx files
Profile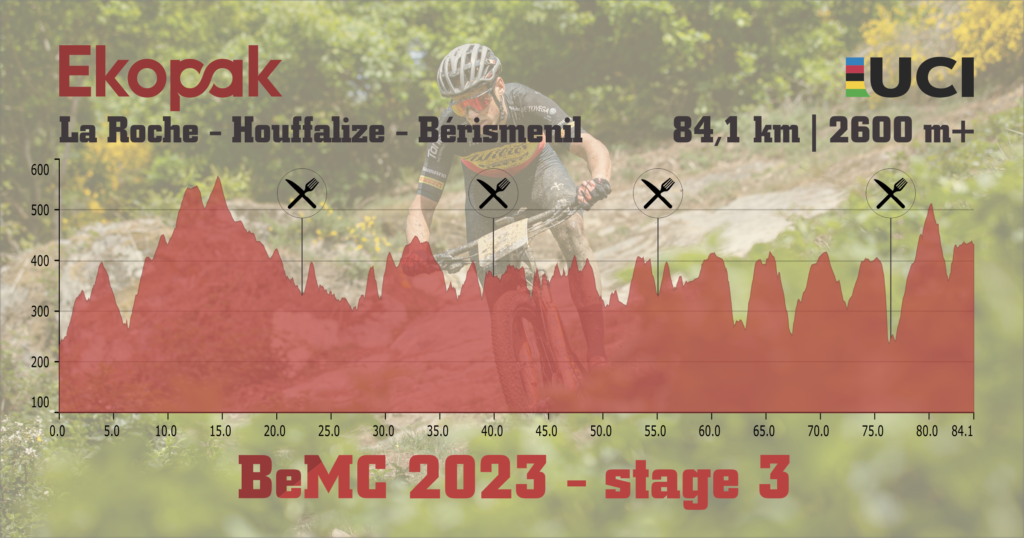 Feedzones
Distance

Location

Time limit

TFZ 1

22,5 km

625 m+

Brasserie Chouffe

Achouffe

12h00

TFZ 2

40,3 km

1140 m+

Rue de la Tannerie

Houffalize

14h00

TFZ 3

55,2 km

1570 m+

Brasserie Chouffe

Achouffe

15h00

TFZ 4

76,5 km

2220 m+

Café "Den Erpel)

Maboge

16h30

Finish

85,6 km

2650 m+

Berismenil
17h15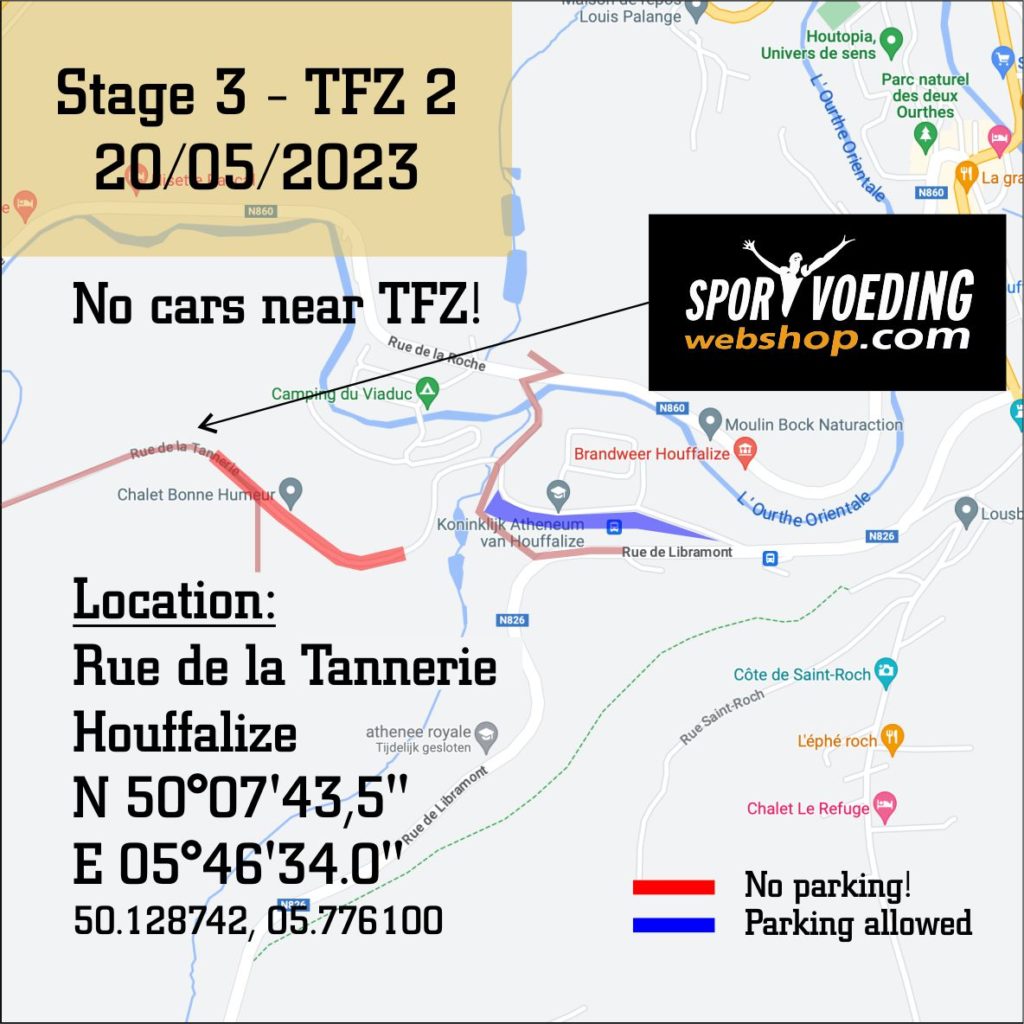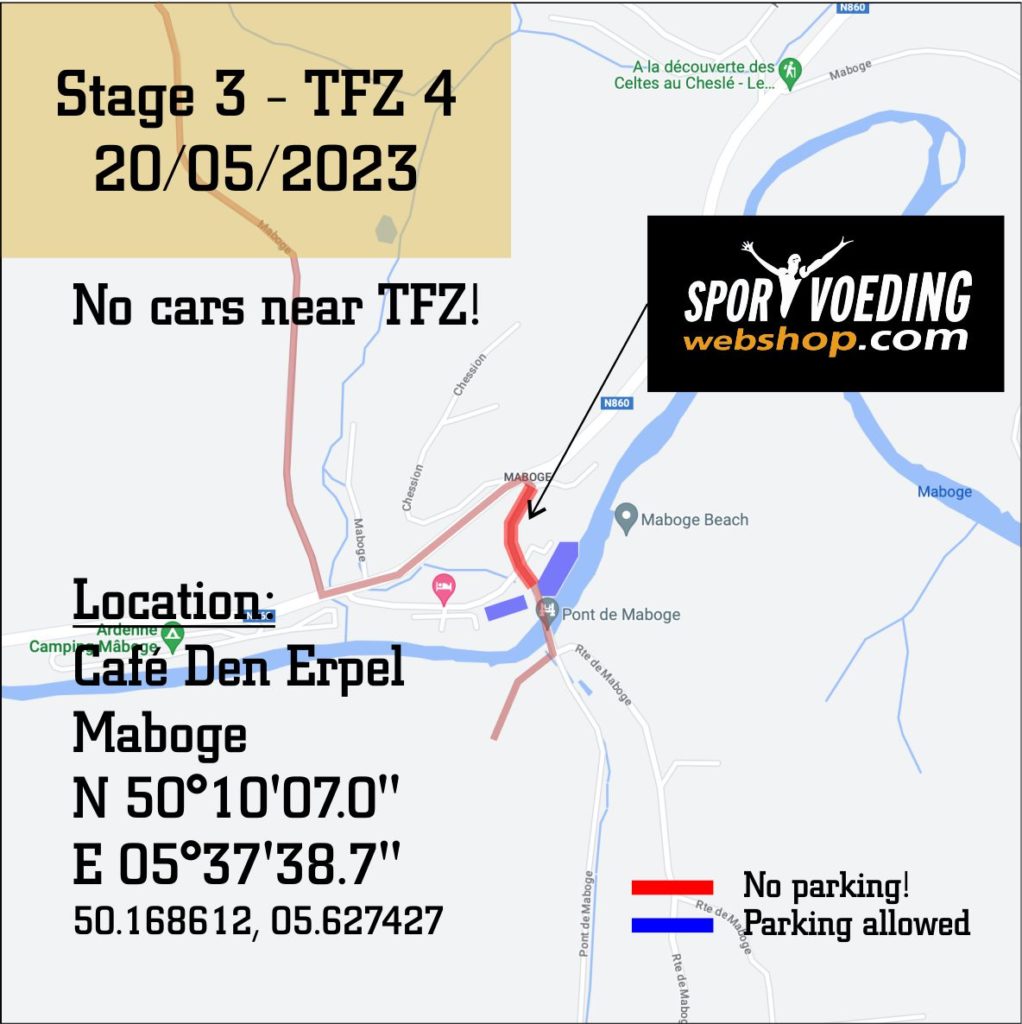 Course map